Assessment and credentials
North Gujarat Education Society, Mumbai managed Sheth M. N. Science College and Shri and Shrimati P.K. Kotawala Arts College were started in 1959. In 1991, Sheth M. N. Science College was bifurcated from Arts College for administrative convenience. The college is situated in economically, socially and educationally backward part of Gujarat state.
We are the progeny of great scholars like Hemchandracharya and such others. Our mission is to prove it literally right. We want to shape and mould the dreams, talents and energies of the young minds of the area with the knowledge of modern science and technologies. We want to create more career options by providing them the best educational and moral guidance. The mission is to turn their all the latent and inherent capabilities into hyper active and useful state. Since this is the age of science, we want to instil scientific thinking, and grow scientific and rational attitude in the youth. So, the purpose is to make this area and its youth as much useful and meaningful to the state and nation as possible.
Our campus has excellent infrastructure and congenital environment, which provides students a platform to exhibit their potentiality in the field of higher education. Moreover, as Hemchandracharya North Gujarat University being situated in Patan itself, students studying at our college have relatively easy access to various university facilities. This college is unique in many ways – the only Grant- in-aid Science College of the Patan District, offering all basic science subjects as special subject at Graduation level with maximum number of students in the university, very good research output among all the colleges of the state, publishing own books in-house, notable number of MoU and collaboration with GO/NGO for extension activities, consulting activities, placement and counselling, etc.
In the competitive environment of higher education, the institute has maintained its repute firmly. Previously the State Government had declared our college as a Best College of the state. In the year 2007 with dedication, determination and discipline our college had received B++ grade (81%) through NAAC Accreditation.
NAAC Cirtificate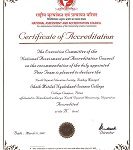 NAAC Quality Profile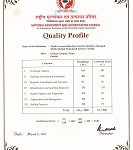 In 2010, our college was awarded as College with Potential for Excellence (CPE) by University Grants Commission, New Delhi. The Vice Chancellor of Hemchandracharya North Gujarat University, Patan has given trophy of appreciation for that in a special occasion as a part of Silver Jubilee Celebration of the university.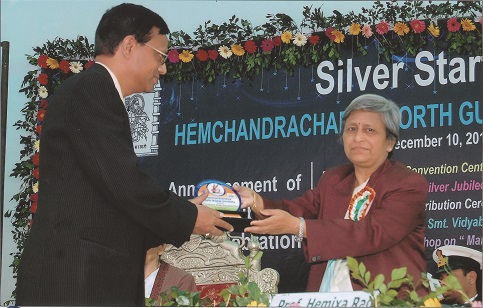 In the September 2013, with dedication, determination and discipline our college had received B grade (2.74 CGPA) through reaccreditation of NAAC.
IQAC Reports